ALL BEATS ONLY ON THE PLAYER BELOW ARE ON SALE AS DISPLAYED
1) BUY 1 BEAT FOR ONLY $8.95!!! REDUCED SPECIAL PRICE FOR BEATS BELOW ONLY
2) BUY 3 BEATS FOR ONLY $15.00* - SOLID DEAL: Equals to ONLY $5.00 Per Beat!
3) BUY 5 BEATS FOR ONLY $20.00* - BLAZIN DEAL: Equals to ONLY $4.00 Per Beat!!
4) BUY 10 BEATS FOR ONLY $30.00* - THE BEST DEAL! Equals to ONLY $3.00 Per Beat!!
*To take advantage of these offers, simply select either 1, 3, 5, or 10 beats below. Discount will automatically reflect on total.
*prices of $8.95 above are for leasing beats for the player above only, as are the free beats provided with any promo.
Hip Hop Beats For Sale - Buy Rap Beats, R&B Instrumentals, and More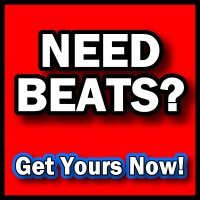 Look, we all know that in this industry, there are tons of beats on sale out there for you to choose from. However, just because there are lots of beats, doesn't mean that they'll all fit your needs. AND, just because there are lots of cheaper priced beats out there, doesn't mean that they're great in quality either. Fortunately for you, I strive and work damn hard to bring both high quality beats for you to record to, and great prices and specials that won't make your wallet feel like it was just drained to death!
I literally have Over 600+ Beats available at my official site, Genycis.com here. And of those 600+ available, you'll find a large variety of beats on sale to choose from! You may have already noticed the special promotional sale going on with all of the beats available on the website. Well, my goal was to bring you a special section above as well of beats on sale ranging in all kinds of flava from east coast beats, underground beats, R&B instrumentals, and just about any other type of beat you can imagine at a greater price!
So what's the catch? There isn't any, other than the fact that these beats above are a small selection of random beats that I chose to promote as part of a special sale. The only catch is that not all 500+ beats are listed above. That's it. The beats on sale above, I'm very proud of, just as I am with all of the beats on my website. So what I've listed above doesn't mean that I think those aren't great and so let's put them on sale. I take pride and joy in making the beats that I do because I enjoy making them, and want you to have quality professional sounding beats to choose from.
I hope you enjoy ilstening to the beats on sale above. Remember, the promotion above does not go with the other promotional sale on the 500+ Beats available at Genycis.com, just as the promo for those beats do not apply to the beats above. Isn't it nice though to be able to choose what beats you want and to still feel that you'll receive a great bargain on either sales promotion you decide on?
So if you're looking for some high quality instrumentals to set off your next mixtape, album, video, and more, be sure to take advantage of either the Special Sale on the hip hop beats for sale here at Genycis.com on the 500+ Beats available, or take advantage of the beats on sale above during this special promotion, and make your music FIRE!!